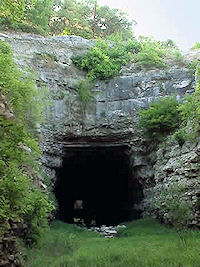 A Comfort Getaway Guesthouse is located approximately one mile from The Hwy #9 Railroad Tunnel. Home to over 2 million Mexican Free Tailed Bats. Managed by the Texas Parks and Wildlife the Old Tunnel is one of the Hill Country's most frequented and interesting tourist spots.

Every year from May through October visitors can view the bats emerge from the Tunnel as they fly into the evening sky clearing the area for miles of pesky bugs. (Makes sitting our deck at night very pleasant - no mosquitoes ) Upper Level viewing is free to all.

For those more adventurous guests wishing to get a up close viewing of the Bats, just let us know and we'll provide lower level tickets for you Free (our gift) ! Tickets to lower level available Thur, Fri and Sat. Visit the Old Tunnel website to learn more.