Run your mouse over photo
to view larger version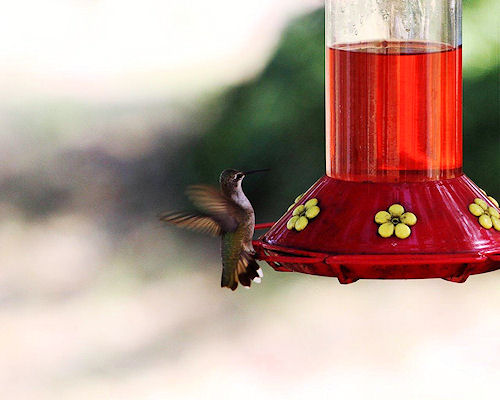 Photo of Hummingbird off deck taken by Tim Welch - Thanks Tim!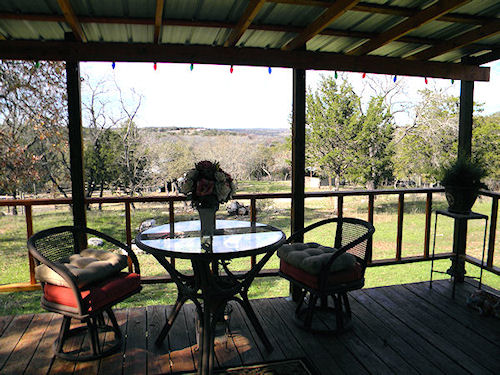 Photos below taken by Getaway Guest
Emily Kinsolving - Thank you Emily!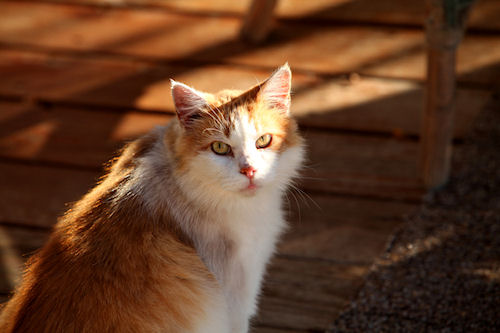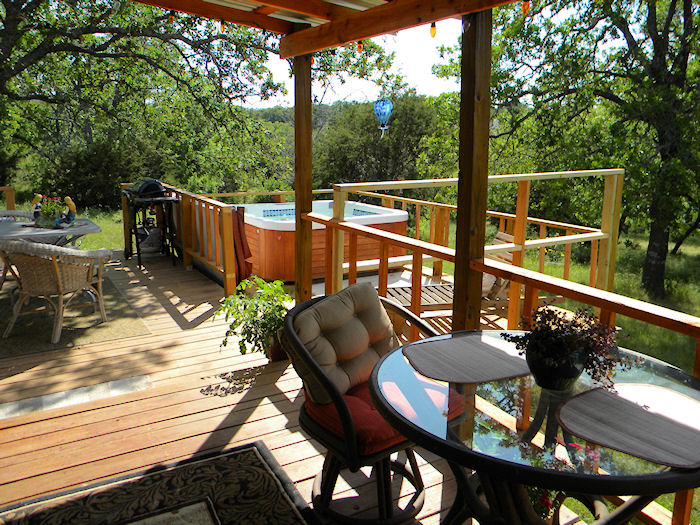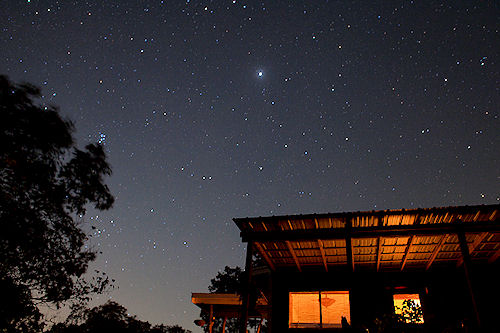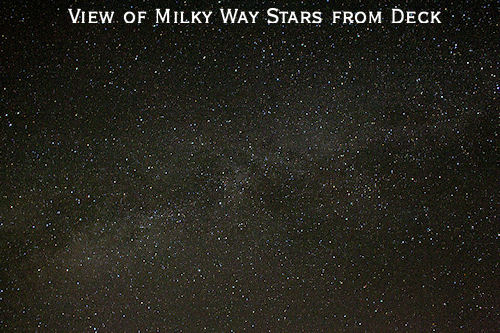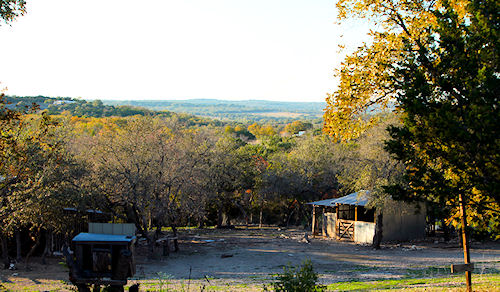 Submitted by Bill - Thank you!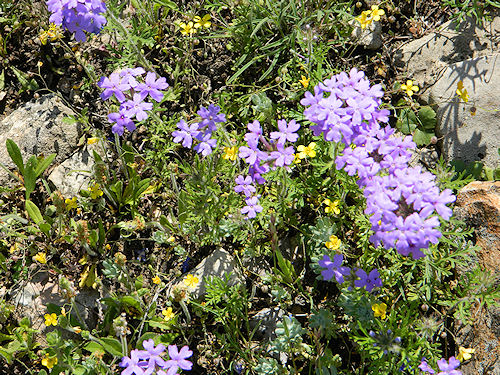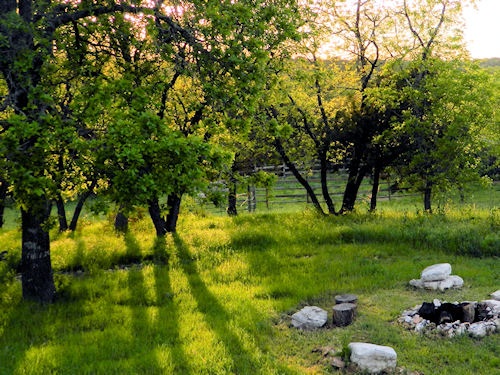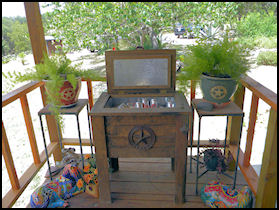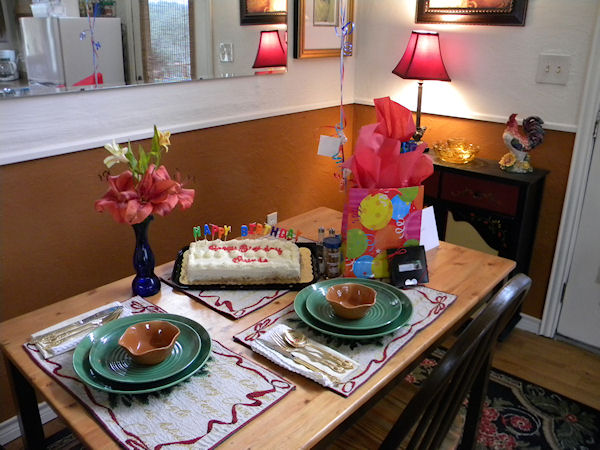 Dec 30, 2013
Linda
We came here for our 1st anniversary and loved it! You thought of everything! Our favorite was probably the hot tub at night under the lighted up trees. We only wish we had booked it for more nights. We will definitely be back!
Kelly & Justin

Dec 29th 2013
We LOVE it here - so peaceful. We love this time of year. My Mom passed in July of this year & Christmas was going to be hard on me. Since I spent every Christmas with her. I told my husband I needed somewhere peaceful this year & different. This is what we came coming here. See you next year!
Thanks
The Flech's

Dec 25, 2013
Linda & Jessie
We couldn't have asked for a better Christmas. Thank you so much for all the wonderful & thoughtful touches. The queso, the wine and the cookies and a bone for Casper! We hope you have a happy, healthy & prosperous 2014! Hope to see you'll and your completely renovated new home in the new year.
Best Wishes
Steven & Wendy & Casper

Dec 21, 2013
Dear Linda & Jessie
This is our 4th visit. Each visit is magical. We try to come for each season so that we can view this wonderful place at different times of the year. I am so glad that we found this beautiful cabin to enjoy. My husband and I like to think of it as our little piece of heaven tucked away in the Hill Country. It is also fun to see all the extra touches you add throughout the year. You new "Bliss Lights" are incredible. I don't know how you find these incredible lights to make your trees dazzle, but you did it! You actually make sitting in the Hot Tub even more special. We love it here and plan to visit often in 2014.
Thank you so much
Kimberly & Alexander
Nov 25, 2013
Dear Linda & Jessie
Thank you for providing such a wonderful place for us to spend our Thanksgiving Holiday. The love you have for giving people pleasure in your piece of heaven is apparent as soon as we walked onto the property.
The cabin could not be any better. From the bed & claw foot tub, to the hot tub & fire pit, we could not have had a better holiday. We enjoyed all of the beautiful decor too. We look forward to our next visit. Cheers to you both1
Sincerely
Darren & Renee

Nov 17, 2013
As usual it was a great time at your cabin. We enjoyed the horse shoes and the jelly and comfort of it all
Hope you'll have a Happy Thanksgiving and a Merry Christmas
Anthony & Rhonda

Nov 10, 2013
Linda,
What a nice "getaway"! We couldn't of asked for somewhere more relaxing. Not sure what we enjoyed more - the hot tub the bed or the country atmosphere. Thanks for thinking of everything!!
RJ & Laura
Nov 7 2013
Thank you so much for the wonderful cabin. We loved our stay here and didn't want to go back to reality! From the hot tub to the view to the breakfast we loved it all. Also thank you for going out of your way to ensure hospitality. We plan to return in the near future.
Crystal & John

Nov 2, 2013
Linda
Thank you very much. We enjoyed the cabin & Hot tub. It's just what we needed. We will definitely be coming back.
Best Regards
Bert & Trish
P.S, The massages were great too!

Nov 1 2013
I am so glad I stumbled upon this place while searching online. It's amazing & magical here. Everything feels like home, especially the cats, we are animal lovers & have several. Olive even looks like one of our babies. Thank you for all the special little touches that make us guests actually feel completely at home. We will be back.
Carrie & Jeremy
Oct 25
We will always remember this beautiful place. This is where we got engaged! Thank you for everything. We will definitely be back
Sincerely
Andrew & Jessica
Oct 20 2013
Good morning!! I hope you had a great weekend. I know ours was wonderful and we hate to leave. I'm emailing you with Olive at my feet and listening to chickens and goat or two. Olive is a sweetie and kept us company! Speaking of the kitties we fed them the last of their food this am. Biscuit stayed around some, so did the fourth unnamed kitty, and we only saw Butter at morning meal time Saturday. Near as I can tell Biscuit can whup ass and runs the place. Speaking of critters despite Matt, my husband, taking your advice and "watering" the yard to keep the deer away I did get to see one late yesterday afternoon running through. ;) LOL We absolutely love your little Comfort paradise and hate to leave. The breakfast fixings were wonderful and I used that cheese bread to make a mouthwatering egg & bacon sandwich yesterday morning. Speaking of eggs and mouthwatering we're taking 3 dozen and 2 jars of Jessie's Strawberry Preserves...yummo!! I left $22 in the chicken scratch jar.

I have to tell you I have a little bit of blue hair dye in the bottom of my hair and I try to be careful but when my hair was wet it got on one of your pretty yellow towels. We tried soaking and scrubbing with the soap but couldn't get it out. If it doesn't come out in the wash please take it out of our deposit. I'm so sorry.

Now that I've written you a book let me say thank you again and can't say enough how much we love your place! From your decorations, to the comfy bed, to the hot tub, to the kitties, and to the special touches and helpful hints you leave. I hope you'll let us come back soon!

Have a wonderful Sunday!
Sincerely,
Kim
Oct 16-13
Thanks for this incredible moment. Everything was Perfect! We felt at home. Hope Come back soon!
Joy & Matthieu

Oct 1-10th 2013
Oh my Goodness, where to we begin? This place the perfect getaway for our honeymoon, everything was better than we could have dreamed it to be! Driving up at twilight we were surrounded by beauty, walking into the roses and wine and cake and beautiful smell! We definitely loved and appreciated it all! The bed was to die for and hot tub and smores under a blanket of stars - nothing will ever beat that! The eggs and jams were absolutely delicious and the kitties were so sweet. Thank you so much for every little thing you guys thought of and helping us have the most memorable fantastic way to start our new lives together. We cannot wait to come back next year.
Love
Kyle & Ericka

Sept 27, 2013
Dear Linda
It is obvious that you take much pride and care in every detail of this lovely cabin. We are most appreciative of all your attentive touches and the fact that you really provide an easy and comfortable stay for your guests. This is a home away from home and we enjoyed everything about it
Karla & Stephen
Tiger and Lilly too

Sept 26, 2013
OH MY GOODNESS! We absolutely loved our stay here. Every detail, design & comfort of this home made this trip. For parents of a newborn, absolutely worth it. You must try the Color Bath w/ the oils. We have decided you should also come and decorate our home :) Thank you for sharing this space to give us a place to rest our weary heads. We're coming back soon!
The Honeas
5 yr. Anniversary

Sept 24, 2013
Linda
Thanks for everything, our stay was great and very relaxing. All the little extras did not go unnoticed. The BED was top shelf, hot tub great and the cats were great company. You guys thought of everything and make the stay great. Everyone should get the massage that was very relaxing. Thanks again for everything!
Samantha and Troy

Sept 15, 2013
Linda
Thanks to you and your husband for sharing your getaway and making our stay a memorable one! Awesome, Relaxing and Refreshing!
Mike and Donna

Sept 10-13
I don't know where to begin but from the moment we walked in the cottage we knew we hit the jackpot on R&R
You went out of your way with special touches inside and out to make sure our 3 day stay was wonderful.
We both especially enjoyed our massage and from that evening all the animals came out. We got to see 2 Roadrunners, 2 Red foxes, turkeys and lots of deer. Thanks for sending them our way!
Alma

Sept 4-6
Linda,
Oh My Goodness, we cannot begin to tell you how much we enjoyed your cottage. It was the perfect place to get-away and relax after a long deployment. We loved EVERTHING! This was so awesome, we have started to plan for our next visit. Thank you Jessie again for making everything so perfect and wonderful. I can honestly say we are fully rested and relaxed to return back to work and the everyday life of Killeen/Ft Hood
Thank you
Kedrin & Stphen

August 23-26
Linda Once again everything was lovely - We so Appreciated the special touches you have in the cottage. FYI we made some amazing marinated peaches with the Merlot!
Thanks for everything
Elizabeth & Richard
P.S. The flowers were gorgeous!

August 16-17
Really enjoyed our stay! Very peaceful & relaxing
Thanks!
Darrell & Sherri
August 12th 2013
Really enjoyed our stay at your cottage !!! Didn't want to leave--Will definitely come back---
Thank you !!!
Sandy

August 9-11 2013
Linda - We came down here for our 1st anniversary to get away from the hustle and bustle of the city, and celebrate under the stars. This is the perfect place to do that. We are looking forward to our next trip back. Thanks for everything!
Austin & Jennifer
August 7-9 2013
Linda
thank you so much for the relaxing getaway. We enjoyed every minute of it. The hot tub was perfect for melting away the stress. We are already talking about coming back this fall. Thanks again
Chad & Amber
August 5,
Wow! What a special place to celebrate our 21st wedding anniversary. The cake with 21 candles was such a special touch!The solitude and stillness here is a much needed element in our busy lives. We loved our little friends " the cats" and probably fed them too much, but they are great ambassadors. Linda the massage was the best ever. I can think of no better place to relax and be with the one I love. Thanks
Michelle and Ed

July 28, 2013
Linda
What a great place! We needed a place to getaway for a few days, not see anyone and just relax. You provided that
Thanks!
Sandee & Javier

July 26, 2013
Linda
Whatever we say you've already heard - This place in paradise is the best and we loved it.
Thank you
Cary & Judy

July 23, 2013
WOW! When we booked your cottage we thought the website looked nice and we would enjoy a country getaway. You're website does NOT tell the real story! This is a thousand times nicer than we imagined. We sat in the Hot Tub Wednesday night turned out all the lights and turned off the A/C inside. The quietness was so intense! We imagined this is how folks lived a 100 years ago. Hot summer nights cooled by sitting in a water trough outside under the stars, softly listening to animals calling across the prairies. We were transported to a simpler time and our souls replenished. THANK YOU! We will be back time and time again
Dakota & Dalton
July 21, 2013
Thank you so much! MaryAnn and I had a wonderful time at your getaway. So peaceful & relaxing. Looking forward to a return trip this fall.
Mickey & MaryAnn
July 16, 2013
Linda
Thank you for allowing us to stay at such a wonderful place. We really enjoyed our time there.
We hope to one day come back and spend a little longer. The cats were great ambassadors!
Alan

July 7, 2013
Dear Linda
Thank you for everything! Congratulations on your new kitty. There are 5 of them now. The 3 of us will be back very soon. Paula, myself and the motorcycle. Your guesthouse is lovely and so blissfully quiet. The bed is fantastic, but the disco lights in the shower really put the whole vacation over the top!
Blessings to you
Dorothy & Paula
(Owners note, 5th kitty is a stray that will be relocated as soon as I can trap the little beast)

July 2-6 2013
Linda
Thank you for providing such a perfect getaway. The effort & thought that you put into making your guests comfortable is obvious & so very appreciated. We agree that the only thing that would make this trip better would be to stay at least another week or two!
We loved our morning coffee on the deck with the wonderful kitties, all of whom are darlings!
Our city dogs couldn't get enough of the delicious country smells - and Scout decided to bring some of that home with him - by rolling in deer scat! Haha
Thank you!
Steve & Wendy

June 24, 2013
Thank you for your wonderful hospitality and making our stay so comfortable. We enjoyed the beautiful and serene setting and the cottage is charming. A perfect getaway spot to regenerate.
Jim & Sarah

June 21, 2013
Linda
As usual it has been a pleasure staying here. It's always nice getting up in the morning, making the coffee and sitting out on the porch watching the deer. So relaxing, so peaceful and so quiet!
We look forward to coming back soon!
Rhonda & Anthony

June 19, 2013
Linda
I really, really want to stay!!! Such a wonderful respite from our busy life. Everything was lovely & we had such a wonderful time and are looking forward to the future - hopefully soon!
Love the signs in the yard!
Becky & Beau

June 6, 2013
Dear Linda & Jessie
You never fully realize how stressful city life is till you get away here to your enchanted cottage.
Sunrise comes slowly peeking its rays through the tree boughs only to kiss them gently, cloaking them in hues of pink & orange at sunset. The deer walk and graze all around you without fear & panic and the raccoon chatters a lullaby at night!
Upon arrival we eased ourselves into the delicious bubbles of the hot tub, taken in the dusk, but nothing like a luscious soak in the tube with aromatherapy. Just bliss!
"Mr. On the go" who gets up at 5am every morning slept blissfully snuggled down into the fluff and comfort of the bed until 10am. Only the smell of bacon and coffee got him up! Romance filled our souls & replenished our marriage. We fell nothing but bliss staying here. All of your extra touches where simply delicious in every way. Our senses renewed, calmness restore, and the re-entry into our busy life's won't be easy but after our weekend we'll make it tolerable.
Please allow us the chance to spend moments with you when you come our way. It would be an utter joy to have you'll. Tell "da girls" good job! We so appreciated their efforts and an extra heaping of love to the Kitties too!
May your life be filled with many splendors that God so freely bestows upon us. Your newest & dearest friends
Scott & Theresa
Little Elm TX
May 26, 2013
Linda - Thank you guys for having the BEST B&B ever! Gene and I had such a wonderful time. We are already talking about our next visit. I would love to take Olive home but don't think she'd like condo life. The deer were amazing to watch and too many other species to mention. Absolutely love the lights, just like a faerie garden. I'll be looking online for some to buy. The wild cat is getting bolder but Olive has been running him off. Saw the Racoon one night. Can't wait to come back.
Gene & Cheryl

May 13, 2013
Linda - you have a very special place here in the beautiful Hill Country. Your unique "touches" really made the cottage a quiet place for romance.
Thank you so much for the wonderful "escape"
Jeff & Kelly

May 5, 2013
The best B&B we've had in a long time! We will be back
Thanks
The Ferguson's

May 3, 2013
Amazing Place! We had the best time
Thank you
Blake

May 1, 2013
Linda,
Wow! Wow! Unbelievable! The absolute BEST B&B I've ever stayed in and I've stayed in tons. You are an inspiration! Your love, peace and spiritually exists in every square inch of this home & property. May God continue to Bless & keep you.
Luana
Until we meet again!
April 25, 2013
Dearest Linda & Jessie
How do we love thee? Let us count the ways... The roses were gorgeous, the champagne and berries were yummy. Thank you so much for having the hot tub warm for us. We were here less than 5 minutes before we were in that bad boy. The tub was also very relaxing and wow - Party Shower!! What fun! It was a nice way to get the senses going in the morning. The eggs and the jam have set a new standard for breakfast. What a treat, what a luxury. O and that bed! In a word - perfection. Neither of us has slept that well in years. We made good use of the deck watching the sunrise & sunset. Easting all our meals there, talking, enjoying some Texas wine and laughing. This has been just delightful. We will be back to this little slice of heaven time and time again. And Jon says "let it be known - from here to Japan and back Linda Cook gives the best massages!" Left some scratch money and a few goodies we picked up for you to pamper yourself and our everlasting gratitude. We will be back soon. Thank you, thank you, thank you!
Jon & Monica

April 24, 2013
Dear Linda & Jessie
This was our 2nd visit to your wonderful cottage. Again we have had the most incredible time. The flowers are all in bloom, and the adorable solar lights were a great touch! Last time we were here it was winter, so it was nice to be here in the spring. Next time we will plan a trip in the summer and then again in the fall. We will always love our special time spent at your magical cottage. Everything has been carefully thought of by you both. We so appreciate your attention to detail. The light up shower head was a "trippy" delight. Thank you so much for Comfort Getaway. We love our time here.
Kimberly & Alexander

April 23, 2013
Dear Linda & Jessie
Words can not describe this cozy cabin. The gardens are so beautiful. I enjoyed sitting and looking over all the scenery. The hot tub, bed, movies were outstanding. We will take the memory of it home as being the best. We wish you luck, happiness and peace always!
Thank you
Mona & Connie
Akron Ohio

April 20-22 2013
Linda
My honey and I had the best anniversary every! We sat on the bench swing, listened to the beautiful nature around us, ate breakfast outside on the wonderful deck, and just spent most of our daytime outside. It is incredible! What a awesome little place this is. All the little touches you added were appreciated and kind. The cats were so very sweet: Olive and Cookie let us love on them with massages. Our pup Emma had the absolute time of her life as well! She says "Thank you" for the treats. We will be back very soon!
Forever in our memory
Juliana & Nathan

April 17-19 2013
Linda, This has been the best anniversary ever, a wonderful way to spend our 15th year. You have thought of everything, the Bed OH, the bed, Perfect. Loved the hot tub & kitties. The air was so fresh. We will leave too son, refreshed & recharged. Thank you for thinking of everything, we will be back for sure.
God Bless
Lewis & Tracie
Gig'em Ag's 05

April 14, 2013
The best B&B we have ever stayed in! Thanks for everything!
Lara & Dave
Beaumont Tx

April 8 2013
Nice little Getaway. Would love to have had wifi though even as that does not seem as much of a getaway. Loved the quiet. Thanks so much
Marcy & Telicia
April 5, 2013
Linda,
A great Stay! Enjoyed the week to the max. Al the little surprises along the way. The comfortable facility helped to melt away stress. The bed was a treat, and along with the breezes through the trees produced some of the best nights sleep we've had in ages. The breakfast foods were tops. Our favorite - the hot tub- made us look forward to nightfall and the canopy of stars over our secluded Shangri-la. We hope to be back!
With thanks
Wayne & Katie
March 24, 2013
Linda
Unforgettable experience! The wine was delicious , the flowers were beautiful. This was exactly what we needed. Thank you so much. we definitely will return!
Forever in our memory
Eric & Ashley

March 17, 2013
Linda,
My sweetheart & I could not have asked for anything more! We laughed, we danced, we drank, we ate like kings, we walked, we talked, and most importantly we loved!
Thank you for providing such a wonderful experience for us.
God Bless this home!
Gregg & Kristy

March 15, 2013
Linda
Thank you for making our getaway wonderful. Everything was sooo perfect. The little touches were thoughtful and amazing, especially the no sugar jelly and candies. Ronnie and I will definitely return.
Thanks
Cindy & Ronnie
March 13, 2013
We were so glad to meet you both. Now I have faces to names. As always we loved our stay here. I had a blast feeding the longhorns and actually go to pet one. You both have made my husband's birthday a very enjoyable one. We will be back for my birthday in Sept.
Thank you again
Sharon & John

March 10th 2013
As always our visit to your cabin was fantastic! It seems everytime we come here the rain follows us, but that's always a blessing too. Can't say enough about how peaceful, comfortable and relaxing it is here. It's Magical! We always recharge here and love it. Thank you for always making us feel so welcome. P.S. Levi thanks you for his bone.
Until next time!
God bless, Jessie, Toni and Levi
March 3, 2013
Linda,
We really enjoyed our time spent here this weekend. It was a great way to spend our 1st anniversary! We would love to come back, loved the hot tub and definitely enjoyed the cats
Always
Sharon & Asa & Gaddy

Feb 22, 2013
Dear Linda
It has been a wonderful trip. It is exactly what we needed. Everything was great, hot tub was a perfect way to relax. This will definitely be an annual trip for us.
Thanks
Chris & Laura
Feb 15th 2013
We have loved every minute here! Our only complaint - more time to stay! It really is a getaway from the hustle & bustle, much needed. You have thought of everything one might need. There are still things we didn't get to use/enjoy, guess that means another visit is on the horizon! Thank you for everything.
Dena & Adam
Feb 4 2013
Linda & Jessie
I cannot say enough about how wonderful you have done with creating such a beautiful and peaceful hill country get away. The views are fabulous and it is so nice to getaway from the city and relax. The bed has got to be the most comfortable mattress that I can ever remember sleeping on. Keep doing what you are doing and I am sure that you are going to have alot of very satisfied clients. We will be back!
Charles Hall
Feb 1, 2013
Linda
what a wonderful peaceful relaxing getaway! Perfect suprise weekend from my husband. We enjoyed everything from dinner under the stars to fabulous views. Thank you for thinking of everything!
Lisa & Matt
Jan 25, 2013
Dearest Linda
A Comfort Getaway is truly a blessing full of beautiful experiences, peace, relaxation and everything in between that is outlined and formed by love!
We only wish we had more time to enjoy everything a little longer. This will be a place we will return to again and again! Thank you so much for a sweet time.
Cody & Sarita

Jan 18th, 2013
Thank you for everything! We enjoyed ourselves very much. Your ambassadors did a great job showing us around and accompanying us on our explorations. Loved the homey atmosphere. This place is truly a blessings
Thank you
Stephan & Tracy

Jan 16, 2013
Wow! Loved this place! thank you for sharing it with us
Amy & Brian

Jan 12, 2013
It was very comfortable we enjoyed the hot tub and had a very relaxing time. We plan on visiting again!
Thank you
Tony & Rhonda
Jan 9, 2013
Thanks so much for the wonderful honeymoon. The place was super adorable & isolate so it could be just us. Thanks for being so hospitable to our dog Rosy as well:) She love the stay, we were sad due to weather we didn't use the hot tub but we will be back!
Best Wishes
Maya Fernando & Rosy
Jan 5, 2013
Thank you so much! We had a wonderful relaxing week. The grill and the hot tub got a lot of use from us. The seclusion was exactly what we needed after the wedding stress. We look forward to another visit (hopefully less cloudy and cold)
Best
The Sevells
2014 Testimonials Click HERE
2012 Testimonials Click HERE
2011 Testimonials Click HERE